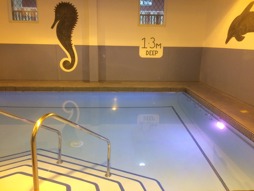 We are delighted to announce that our classes have now restarted at the Royal Maritime Club in Portsmouth on Thursday mornings, and to celebrate we are offering new customer the change to book in with a great offer - 8 classes for the price of 6! 
The pool area has recently had a refurbishment, and is looking very smart, and the new changing facilities are fab!
For those of you who have never been, it's also a great location for a spot of shopping or lunch at Gunwharf while your little one has a post-swim snooze in their buggy - did you know that swimming aids good sleep? 
Our Thursday classes will run from 10am until midday. The special offer runs until the end of May - please fill in the form below and someone from the team will be in touch to let you know about availability and cost!
More details here