We are thrilled to be introducing our Swim Academy classes across West Sussex and Hampshire, starting in September.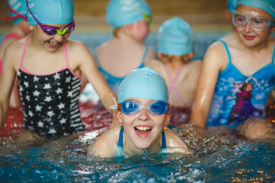 Our whole focus in our Swim Academy classes is teaching your child to swim beautifully, with the correct technique. 
Benefits of Swim Academy: 
Our teachers train, teach and continue to learn throughout their career. 
Our small class sizes mean all children get the right level of support to suit their age. Classes are taught with a ratio of 4 children to 1 teacher or 8 children to 2 teachers. 
We set clear targets and meet them. You can track your child's progress through your online account. 
We keep our classes fun, lively, varied and exciting to help your child stay engaged and challenged in the water.
Why choose our Swim Academy classes?
Where and when are the classes?
We are running classes in 3 destinations across 4 days:
Rachel Madocks School, Waterlooville, Wednesday 16.30 - 17.30
Great Ballard School, Eartham, Saturday 10.30 - 11.30
St Anthony's School, Chichester, Monday 17.30, Sunday 09.00 - 10.00
Which level should I choose?
pWe will be running two levels of class initially - Level 1 and 2. Click here to see which class would be most suitable for your child, but of course, Please do not hesitate to contact us if you would like any more information. 
Here at Swim Academy, we learn and have fun all the way!