Tell your friends how much you love your Puddle Ducks lessons and receive a £10 credit for ever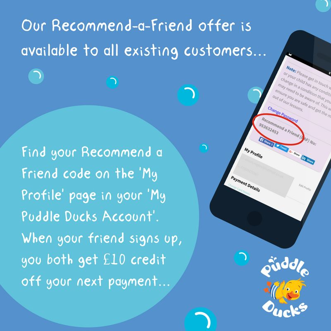 y friend who books with us! Even better - they get a £10 credit too!
You can recommend us to as many friends as you like you'll receive a £10 credit for each one who joins us.
£10 credit is added to your account towards future payment for classes when the new customer pays for their class quoting your unique 'Recommend-a-friend' code, or quotes your name.*
*The credit cannot be added retrospectively. Can be used with Sibling Discount but no other Loyalty Discounts. Cannot be used with an Introductory Offer or Promotional Offer. No cash value. Expires after 6 months.