All you need to know – Cleycourt Manor Pool     
**PLEASE BE AWARE THIS IS A PRIVATE POOL. Please follow the directions provided to the pool to ensure we respect the owners property, and please ensure your children are accompanied at all times.**
Cleycourt Manor, Cleyfields, Bourton, SN6 8HZ
(Please note that the postcode does not always take you to the location - please do note the directions below)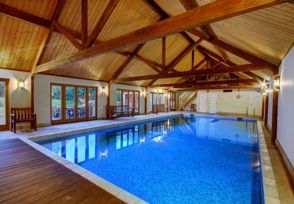 We can't wait to welcome you to Puddle Ducks at Cleycourt Manor Pool – in the meantime, here's some information that we hope you find useful. Have a splashtastic time!
 
Location: Cleycourt Manor, Bourton
Directions: Coming from Shrivenham, head south-west on A420 towards Townsend Road. Turn left onto Townsend Road, then turn right on to the road sign posted to Bourton. Follow this road over the small railway bridge, past the farm on your left hand side on to Cleyfields road. Follow this through some housing and Cleycourt Manor will the be on your right hand side.
Timetable: Click here
PARKING - VERY IMPORTANT, PLEASE READ:  Parking is in the large drive to the front of the property. Cars must ONLY be parked on the left hand side of the driveway for lessons.  
We would like where possible for you to follow the system below:
For the 1st/3rd/5th/7th and 9th classes park in the half of the drive nearest to the house - on Tuesday, Wednesday and Saturday these are the classes at 9.30am, 10.30am, 11.30am, 1pm and 2pm and for Thursday these are the 9.45am, 10.45am, 12pm and 1pm (no 9th one) classes.
For the 2nd, 4th, 6th and 8th classes park in the half of the car park nearest to the road - on Tuesday, Wednesday and Saturday these are the classes at 10am, 11am, 12.30pm and 1.30pm and for Thursday these are the 10.15am, 11.15am, 12.30pm and 1.30pm classes.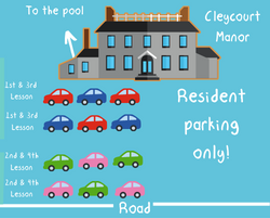 Essential Information: 
The entrance to the pool is round the main house (to the left of the building) and down the steps.
The entrance is on the left hand side of the pool building and will be signposted.
The changing rooms are on the left as you enter the pool building.
A well-fitting neoprene swim nappymust be worn with a disposable swim nappy or one of our environmentally friendly NappyWraps & Liners underneath if your child is in Floaties, Splashers or Kickers and in other programmes if they are not potty/toilet trained. Why not buy one of our great value Starter Packs which contain everything you need for your swim lesson?
All Swim Academy children must wear swim hats (one will be given to new swimmers at their first lesson) in the pool. You can find these plus our range of goggles and other Swim Accessories 
You can find lots more useful information about attending our swim classes on our FAQs page.
Changing rooms: There are two separate (male and female) communal changing room. There are no nappy bins available at the premises so please take your used nappies with you.
Exclusivity: Puddle Ducks have exclusive use of the pool during lessons.
Access: Limited spectators poolside due to current Covid-19 restrictions.
Poolside assistant: There is a poolside assistant to help with COVID procedures.

Technical information:
Depth: 1.3m in the shallow end
Baby and Pre-School maximum class ratio:  6 children/adult pairs:1 teacher
Swim Academy maximum class ratio: 8 children: 2 teachers in L2 and L3, 8 children:1 teacher in higher levels
 
Helping you to make your special time last even longer...that's the Puddle Ducks' difference
You're likely to be swimming with friends and make new ones along the way, so why not live life swimmingly away from the pool by meeting up before or after class.  Here are some local places we think you and your children may like (please check Covid-19 at these places before visiting):
Closest play-park
Shrivenham play park is only 4 minute drive away.
Closest cafés
There is a lovely café on Shrivenham high street called Bloomfields Fine Food Delicatessen.
Closest soft play
There are a number of soft play centres around 20 minute drive from Cleycourt Manor.
Jungle Kingdom Groundwell Industrial Estate, 9 Crompton Rd, Swindon SN25 5AY
Jolly Roger Play Greenbridge Rd, Swindon SN3 3JE
Other local attractions
There are lots of places to visit around Shrivenham.
Roves Farm Roves Farm & Visitor Centre, Sevenhampton, Swindon SN6 7QG
Lotmead Farm Pick Your Own Stratton Rd, Wanborough, Swindon SN4 0SN
Freedog Swindon Unit 30, Techno Trading Estate, Bramble Rd, Techno Trading Estate, Swindon SN2 8HB