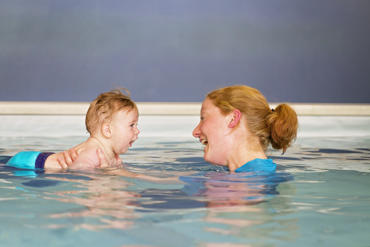 Do you smile like this at work? It is no surprise that baby and child swimming teachers are constantly smiling. The rewards for doing this job are amazing.
It takes someone very special to become a Puddle Ducks Baby & Pre-school swimming teacher or a Swim Academy teacher.
Someone with a love of water and a love of children
Someone who cares enough about giving babies a gift of complete freedom and pleasure in the water
Someone who wants to give them something that is both a skill for life and a life-saving skill
It doesn't take years of swimming training
It doesn't take years of childcare experience or training
It takes passion, commitment and a willingness to spend several hours in a swimming pool!
Be the best at what you do

Puddle Ducks Baby & Pre-school and Swim Academy teachers are trained to the highest standard by the best in the business. Not only will you have internationally recognised STA Qualifications but you will be specially trained in the 100% child-led Puddle Ducks and Swim Academy programmes.

Our teachers never stand still. We develop our programmes in line with research on physical and emotional child development as well as development in swimming techniques and aquatics and through our state-of-the-art eLearning system, continuous professional development is at your fingertips.
Who are we looking for?

Our swimming teachers come from all walks of life but they all bond over their love of the way we teach children to swim here at Puddle Ducks. Previous swim teacher experience isn't necessary but we do look for a few basics when we are recruiting. We are looking for someone who:

Can swim 25m and is confident diving to the bottom of a pool
Is confident, friendly, flexible and reliable
Has a passion for working with children
Has a driving licence and access to a car
Is willing to commit to training over several months

STA/Swim England teaching and lifesaving qualifications are not essential, but would be beneficial. Puddle Ducks will support you and guide you through the whole training process.
Some key facts about working for Puddle Ducks

Our 300+ teachers, teach over 25,000 children per week to swim across the UK from over 300 pools
Our youngest team member is 15 and our oldest is 70!
From teaching in schools to accounting, from retail to journalism, from the NHS to sales rep, from prison officer to pilot, from army officer to pub landlady and from football coach to care worker, our teachers really have done it all!
Most of our teachers work either some evenings or at least one day at the weekend or both
Our teachers are partners in the business they work and therefore receive profit share and they are also entitled to paid holidays
Career potential at Puddle Ducks

Your teaching career will start at franchise level, either as a Puddle Ducks Teacher or Poolside Assistant. From here, the world is your oyster! We know some of our teachers take on the role to fit around their family lives and this is one of the benefits of teaching baby swimming. We also know that some of our teachers become addicted to what is really the best job in the world and for those, the sky is the limit!

Roles within a franchise:

Poolside Assistant
Teacher (of any of our three programmes)
Senior Teacher
Head of Teaching

Our technical team are continually assessing our teachers around the country and those who stand out are invited to take on extra responsibilities within the Duck HQ Technical Team, helping to maintain the high standards we demand in our network.

Roles within Duck HQ:

Programme Accreditor
Puddle Ducks Tutor
Regional Technical Manager
Why is it such a rewarding career choice?

How amazing to watch a tiny baby and their mother blissfully floating around the pool; or to see a one-year-old take her first few strokes on her own to her mother; to see a two-year-old jump in and swim back to the side unaided; and to see a three year old's huge grin after they have swum their first width.

Our Swim Academy (aged 4-10) children often come to us with little experience or confidence in the water and with parents who are equally nervous. Turning this around and creating confident, beautiful swimmers who love the water is why our teachers love their job and why 95% of customers would recommend us.

Our team members are bound together with a complete love of their job and shared experiences. It's a fabulous job that still gives you plenty of valuable time to spend with your family. 

You can be confident that you are the best at what you do when you work for Puddle Ducks.
Fill in this form and your local team will be in touch or you can browse our current vacancies across the UK here.
Thank you
The form has been submitted successfully.
We don't just have teaching roles up for grabs!
Our local teams have Customer Care and Office teams too - find out more about the kind of roles that might be available near you.
Find Out More
Current Vacancies
We have lots of roles available to fill right now so take a look if there is anything in your area.
All Current Vacancies