What happens if I can't attend my class?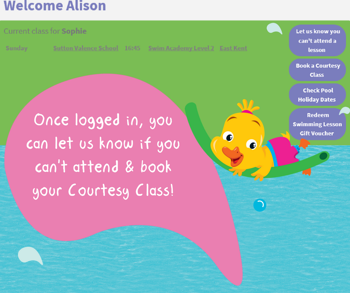 We know how important it is that your child attends as many of their classes as possible. Our Courtesy Classes are designed so that you have plenty of opportunity to make up for a missed class at an alternative time that's convenient for you. They are designed for planned holidays/absences rather than last-minute sickness, as 24 hours' notice is required.
How do I get a Courtesy Class voucher?
In order to generate a Courtesy Class voucher, simply log in to your online My Puddle Ducks account at least 24hrs before your regular class takes place and head over to the 'Overview' page or the 'My Children' page. Then, just click the blue 'Let us know you can't attend' button and follow the instructions.
By letting us know you can't attend, other customers will be able to use one of their Courtesy Classes in your place, meaning more opportunity and availability for all! 
I want to use my voucher to book a Courtesy Class!
Log in to your account and click 'Book a Courtesy Class' next to your child's name. This will bring up all of the classes with availability across the next six days. You can book a Courtesy Class up to one hour before it's due to start. Don't forget, availability is live, and throughout the week a space in your favourite Courtesy Classes could become available if the regular children in that class are unable to make it, so check back often to see if a space becomes free.
In order to receive a Courtesy Class, you must let us know if you can't attend a class 24hrs before your regular class takes place. Courtesy Classes will not be generated with less than 24 hours' notice.
To use a Courtesy Class voucher, you must be in a current class. Courtesy Classes cannot be tagged onto the end of the lessons you have paid for. 
For any Courtesy Class booking made within 24 hours of the class taking place, you will need to show your teacher proof of the booking by taking your confirmation to the class. This is because the teacher will have already printed the register, so they need to know you're fine to attend. 
You can cancel your Courtesy Class before the class commences. This does not mean that you are booked into your regular class once again, it means the Courtesy Class voucher has been reissued.
Courtesy Classes can only be booked a maximum of six days in advance.
Courtesy Classes have no cash value.
All Courtesy Classes will have a six month expiry date from when they were first generated.
If you, or your child, has a medical condition it is your responsibility to inform the teacher. Your teacher will be able to amend the activities accordingly, if necessary.