AUTUMN TERM DATES
Monday 3rd September - Sunday 16th December 

No swimming during half term; Monday 29th October-Sunday 4th November inclusive. 
Puddle Ducks Bristol & Bath offers:
Baby, toddler and pre-school swimming classes 
Swim Academy classes for school-age children
Aquanatal classes for mums-to-be
Please get in touch if you would like to find out more.
Telephone: 0117 9717165 Office open Monday to Friday 9.30am-4pm
Email: bristolandbath@puddleducks.com
Or, click 'Find a class!' above and use your postcode or location to see where you can swim locally.
Sarah Austin runs Puddle Ducks in Bristol, Bath, North Somerset, Wiltshire & South Gloucestershire.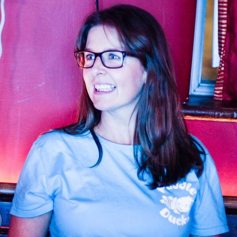 "It's so important for children to be safe and happy in water.  I know from personal experience that swimming with your baby gives you a special bond, a feeling of trust, a "go to" activity when it's raining or cold outside, or hot and sunny for that matter!  It's a thrill to watch your child learning new skills and growing stronger and more confident in water.  You will never forget the joy on their face (and yours!) when your child first jumps into the pool on their own, dives down and collects a ring from the bottom, or swims their very first width."  Sarah Austin
Puddle Ducks Baby & Pre-School
Our Baby & Pre-school programme is a wonderful bonding experience. Progressive lesson plans instil a water confidence and a love of swimming whilst our nurturing teachers tailor activities to your child's abilities and needs.
Taught in lovely warm pools with a maximum of ten children, our classes incorporate rhyme, music and movement based on extensive child development research. Our lessons are so well received that the children we teach can often swim over 10 metres before they start school.
Find out more about our Baby & Pre-school classes
Puddle Ducks Swim Academy
We also run classes for older children in our Swim Academy classes, so we will be with you throughout your whole journey from baby to independent swimmer and who knows, maybe a future Olympic champion.
Whether your child is coming from a pre-school class, or has never been in the water before, you can be sure that they will get the attention that they need as our activities are individually tailored to suit each child.
Find out more about our Swim Academy.
Puddle Ducks Aquanatal
Our Aquanatal programme is fantastic for mummies-to-be, offering the perfect combination of gentle exercise, muscle strengthening and relaxation.
Find out more about our Aquanatal classes.
We look forward to welcoming you into the Puddle Ducks family very soon!
Local News
Our Partners