Back in 2011, Imme and mum Dionne started their Puddle Ducks Journey in a Splashers class and have been swimming with us ever since! Now in a Swim Academy Level 3 class, Dionne now watches poolside as Imme builds upon her technique, grows in confidence, and maybe even conquers the world!
Imme's Puddle Ducks' Journey...
Imme's mummy Dionne has kindly shared some photos with us, that documents Imme throughout her Puddle Ducks' Journey. From her Underwater Photoshoot as a baby, achieving her 5 metre swim, to hanging out Puddle, it's so great to see a smile on Imme's face every step of the way!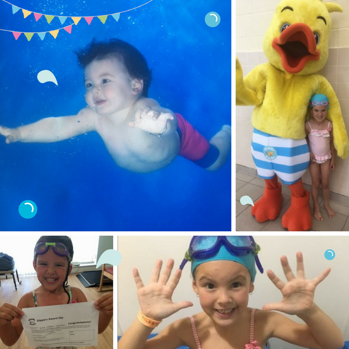 ... to Swim Academy!
Imme made the transition from Puddle Ducks to Swim Academy back in 2016, after achieving her 5 metre swim in Dabblers! Since 2016, Imme has progressed more and more, and is now in a Level 3 class, where teachers instruct and support from the poolside. Building on the technique that Imme has developed in Levels 1 and 2, she is pushing herself even further to master excellent alignment in the water, technical stroke work, and is working towards her 25 metre distance award!
Aside from all of the technical stuff, Imme is developing a real confidence, and love for the water and from the smile on her face in each and every moment captured, it seems fair to say that she is having a whale of a time and we are so proud that we get to be a part of all the action!
Enlisting Imme's help!
At Puddle Ducks, we are passionate about progression, and throughout each of our levels our teachers are constantly trying to get the most out of your little-one's and help them to become the best swimmers that they can be. Our Marketing Assistant Haidee joined Imme after her class at Spindles this week to enlist her help with a very special prize draw to reward one lucky swimmer who, like Imme, has progressed through our programmes and has been swimming with us for 5 years or more. Check out our Facebook page to find out who the winner is!
One huge final thanks to both Imme and mum, for sharing these special moments with us and for lending their hand to Haidee. 

"A couple of photos to show you how much Imme loves swimming and how confident attending lessons has made her around water" - Imme's mummy, Dionne.